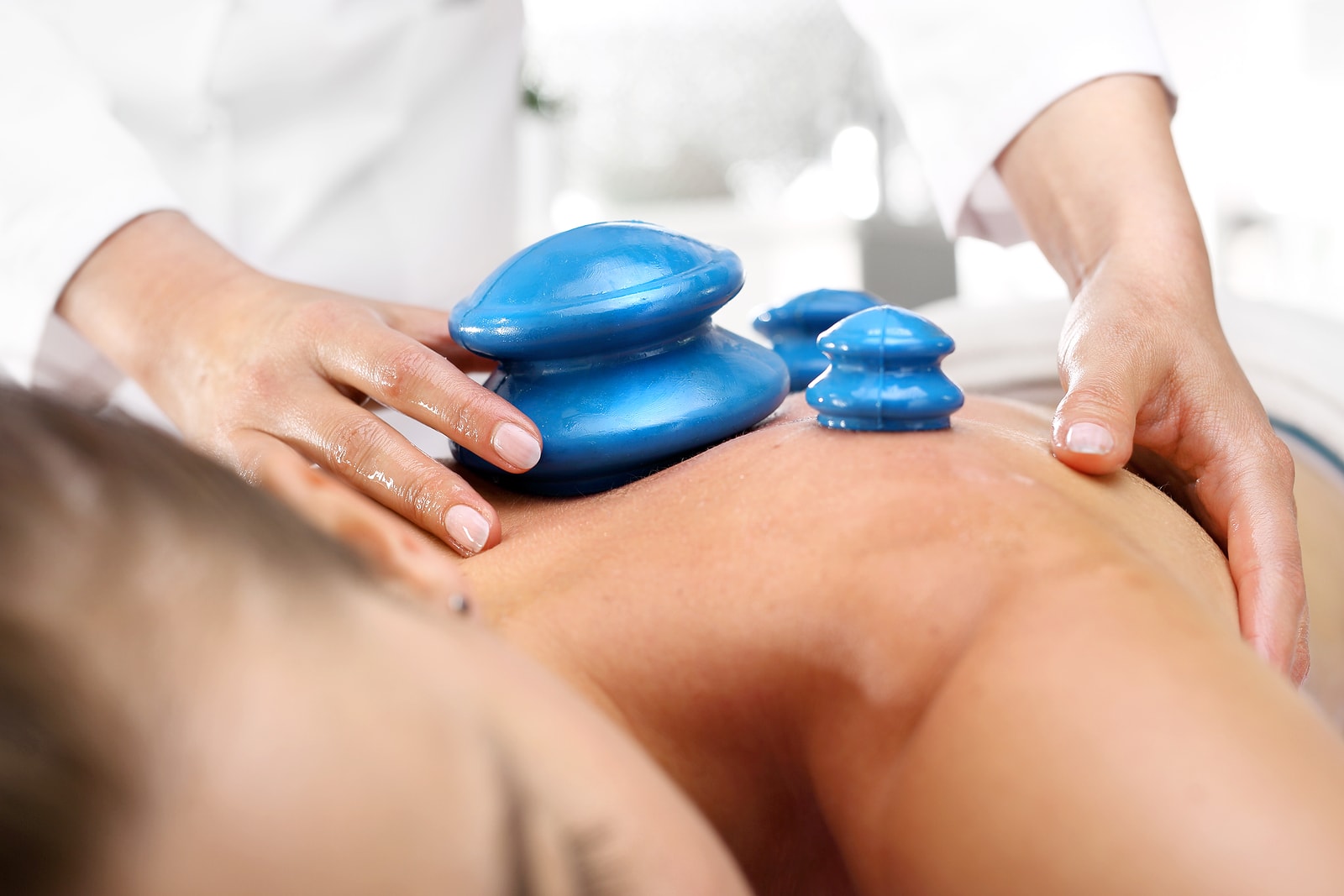 Cupping Therapy
"When the well's dry, we know the worth of water."
– Benjamin Franklin
Take care of your Self!
What is CUPPING Therapy?
Cupping is also known as negative pressure massage. It lifts the tissues into the cup through suction and in doing so, creates space within the tissues. This enables more movement of blood and lymph in the local area.
Cupping is a manual technique that has been used since the beginning of human existence to release Blood, body fluids, inorganic substances, bacteria, metabolic waste, and more from beneath the skins' surface. It has been used for millennia as pain relief, to speed up the recovery from cold and lung conditions, and to release stale Blood from the body.
The treatment can be very stimulating for the receiver, and yet very relaxing. SO, it is also excellent for stress relief.
Cupping also draws the Blood to the local area, so we can potentially help to stimulate the Parasympathetic Nervous System by bringing the Blood back to the center of the body.
In recent times, cupping has had a mass resurgence due to the media attention that it has been gaining. We have seen many people who are in the public eye showing up on camera with visible cupping marks on their bodies. It has created a buzz, both positive and negative due to the reactions that some people have to cupping marks.
The marks look like sore bruises, and sometimes what is being seen are very extreme reactions. Typically, cupping marks range from light pink to dark red/purple, again, in extreme cases.
Cupping has been demonstrated to be effective in the treatment of the following conditions…
Arthritic Pain
Abdominal Pain
Stomach ache and indigestion
Headache
Hypertension
Common Cold,Bronchitis, Coughs from excessive mucus (generally a week after fever).
Asthma
Low Back Pain
Painful Menstruation
Scar Treatment
Edema and Swelling
Aches and Pains
Limited and Painful Movement
SI Joint Dysfunction
Possible Benefits of Cupping:
• Clears body of debris, removes congestion
• Increases immune function
• Decreases/relieves pain & inflammation
• Releases deep muscle tension
• Releases and softens scar tissue & adhesions
• Stretches muscle and connective tissue
• Increases range of movement
• Improves circulation
• Drains lymph fluid/clears drainage pathways
• Opens energy flow of body
• Promotes nervous system sedation
Contra-Indications:
Including, but not limited to….
High fever, convulsions ro cramps
Sunburn
Allergic skin conditions or ulcerated sores
Lymphedema
Lymphatic Blood Cancers
Abdomen or low back on Pregnant women
Inflamed or cut skin
Existing cupping marks
Injection sites
Serious heart disease/cardiac failure
Renal failure
Hemophilia
Leukemia
Dermatosis
Varicose veins
Liver or kidney disease
Disc herniation
Deep vein thrombosis/blood clots or any clotting disorder
Those undergoing cancer therapy
If you are concerned about whether or not you should utilize cupping therapy, please call 512-744-7483 to chat with Megan about it before booking.